T-Head Bollard for Mooring
Mooring bollards are available in a wide range of shapes, load ratings, and materials, of which no single combination can satisfy all customers. Accordingly, Qingdao Lige provides a wide range of products.
The most commonly used style of bollards are the Single Bitt, Double Bitt, T-head, Staghorn, and Kidney, as well as simple cleats used for smaller vessels.
The particular type of bollard a customer requests, as well as the material used to cast the bollard, is usually a function of what has historically been used at the operator's facility.
These differences can also be geographically dependent.
T-head bollards are more prominent in some regions while Single Bitt bollards are more commonly used in others.
It may also be the preference of the consultant as they may have considered a particular bollard model, along with its particular shape, load rating,and anchorage, during the detailed design of the berth.
This choice must be respected to ensure the safe usage of the product.
T-head and Staghorn bollards can handle higher line load angles than Single Bitt and Kidney shaped bollards.
This feature may be of particular importance where very large changes in water level result in significant differences in line angles.
Large differences in line angles may also occur at multipurpose berths where widely varying vessel sizes frequent the same berth.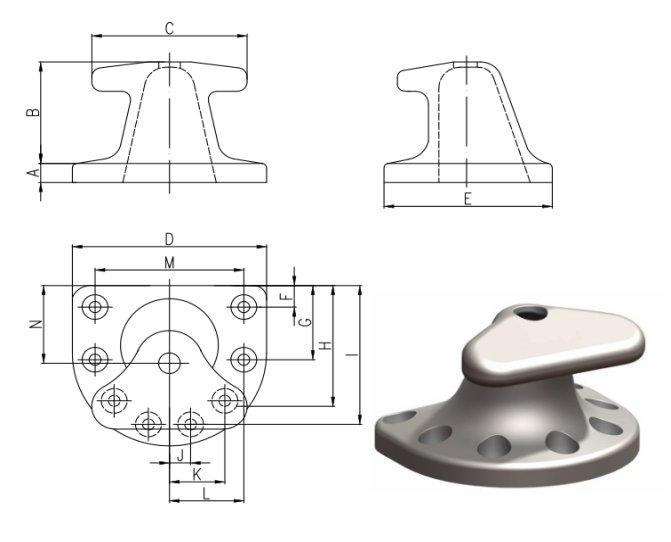 Standard Bollard Capacity (tonnes)
Dimension (mm)
TH10
TH15
TH20
TH30
TH50
TH75
TH100
TH125
TH150
TH200
A
45
52
54
57
70
80
80
87
93
97
B
200
220
240
250
308
355
415
460
490
520
C
305
335
350
365
450
520
610
670
720
765
D
380
420
440
460
565
650
762
838
900
950
E
330
365
380
400
490
560
660
726
780
825
F
45
50
51
53
65
75
90
100
105
110
G
-
-
-
-
-
-
305
335
360
350
H
-
-
230
245
300
300
500
550
590
560
I
240
265
330
340
420
460
570
630
675
695
J
103
115
-
-
-
105
-
-
-
120
K
-
-
152
159
196
240
195
215
230
300
L
-
-
-
-
-
-
290
320
345
365
M
292
320
336
350
435
500
585
645
690
730
N
190
208
218
226
280
320
380
415
445
475
Bolt Size
M24
M24
M24
M30
M36
M42
M42
M48
M48
M56
Bolt Length
450
450
450
450
600
600
600
750
750
915
Bolt Qty
4
4
5
5
5
6
7
7
7
8
T-Head Bollard