Smit Towing Bracket-OCIMF
Smit brackets is the fitting for securing the end link of a chafing chain, consisting of two parallel vertical plates mounted on a base with a sliding bolt passing through them.
Our smit brackets are manufactured according to Oil Companies International Marine Forum (OCIMF) guidelines and are LRS, ABS and BV Certified.
We provide smit brackets for a range of marine applications, including single point mooring (SPM) and emergency towing applications, and to suit most sized anchors and chains. Standard smit bracket capacities are 102 and 204 tonnes, but 250 and 800 tonnes are available upon request. The smit brackets are welded to the deck and are rated to withstand the breaking load of the marine chain used.
Smit bracket handing configurations to be stated when ordered. Underdeck stiffening to be in accordance with the appropriate classification society requirements and approved by the classification society surveyor.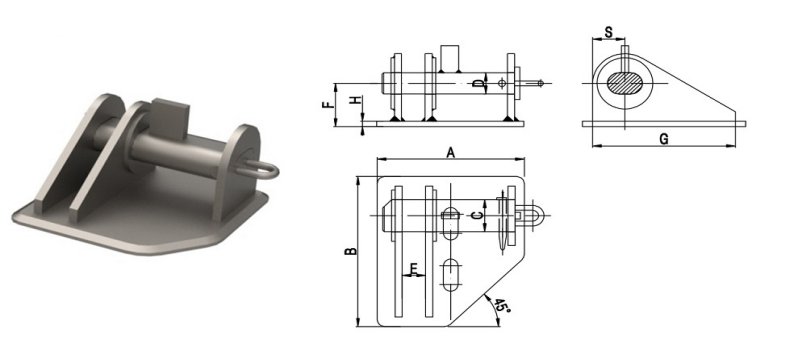 Product Code
Nornimal Size (mm)
SWL (KN)
Dimensions (mm)
A
B
C
D
E
F
G
H
S
Weight (kg)
SB001
28
450
260
290
60
42
40
92
230
12
60
34
SB002
40
500
370
415
88
58
60
116
360
16
85
58
SB003
44
550
370
420
90
58
60
118
370
18
85
76
SB004
48
600
465
495
100
60
70
140
425
20
90
94
SB005
52
750
485
535
110
70
80
150
465
20
100
106
SB006
54
1000
500
555
118
78
80
160
485
25
110
118
SB007
60
1250
535
600
124
84
85
175
520
25
120
146
SB008
64
1500
600
625
138
92
100
180
545
25
138
184
SB009
68
1740
650
700
150
92
100
213
605
28
160
226
SB010
73
1850
675
750
160
102
100
218
655
28
160
298
SB011
76
2000
720
800
170
110
112
230
700
30
170
312
SB012
84
2250
770
830
180
118
120
245
750
35
180
446
SB013
90
2500
880
900
190
124
130
255
780
35
190
588
SB014
95
2750
940
1120
195
135
170
290
940
40
195
751
SB015
102
3000
940
1120
216
144
170
305
940
45
225
888
SB016
120
3500
1100
1180
250
162
170
340
980
50
250
1180
SB017
132
4000
1170
1300
276
182
180
380
1140
55
275
1550
Smit Towing Bracket-OCIMF