Rollers Fairlead JISF2026
The JIS F2026 roller fairlead is manufactured strictly according to the Japanese Standard JIS F 2026-1980. It is also known as universal fairlead with horizontal rollers and vertical rollers. It is made of stainless steel. Its surface is polished and galvanized which has high corrosion-resistance. It is usually located on the deck end or in the bulwark. It can perfectly guide the direction of ropes and protect them. There are three types for the fairleads: Type A (4 rollers), Type BR (5 rollers) and Type BL (5 rollers and symmetrical to BR type). Qingdao Lige Machinery can supply the JIS F 2026 fairlead according to customer's requirements with the certificate of CCS, ABS, BV, LR, NK, etc.
Features of JIS F2026 Roller Fairlead:
- Welded structure, sturdy and durable.
- Smooth primer surface to protect mooring ropes and steel wire ropes.
- Seawater-resistant bronze sliding bearings, grease lubrication.
- The surface is coated with zinc-rich primer and anti-rust paint, which has high anti-corrosion performance.
- Quality in accordance with international standards, long service life.
Applications of JIS F2026 Roller Fairlead:
- It is widely used in different ships, such as container ships, oil tankers, bulk carriers, tugboats, dry cargo ships, etc.
- Change the direction of the cables used to guide the ropes will not cause malfunctions during the mooring of ships.
Parameters of JIS F2026 Roller Fairlead: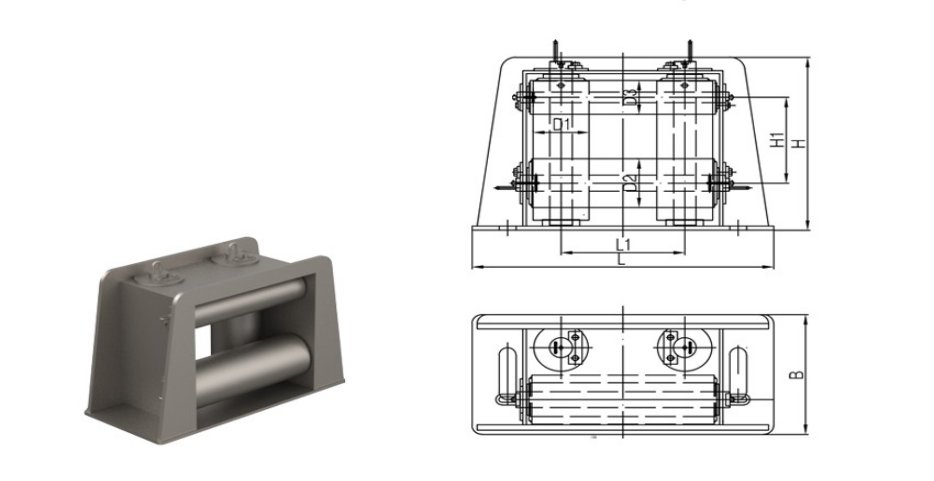 Product Code
Nominal size (mm)
Dimensions (mm)
Opening Size (mm)
Wire Rope Dia.(mm)
SWL (TON)
4Rollers Weight (kg)
5Rollers Weight (kg)
L
L1
H
H1
B
D1
D2
D3
RFG001
140
805
335
542
275
355
140
140
114
148×195
18
12
216
246
RFG002
160
890
365
584
290
405
165
165
114
150×200
22.4
17
308
370
RFG003
180
960
390
636
315
455
190
190
140
150×199
25
24
410
517
RFG004
200
1049
420
680
330
505
216
216
140
152×204
28
28
565
680
RFG005
250
1303
520
824
415
610
267
267
165
199×253
35
46
1000
1234
RFG006
315
1562
620
998
420
715
318
318
216
253×302
42
60
1625
2150