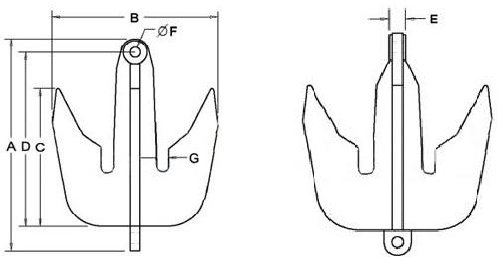 Specifications of Chain Grapnel Hook
Pull
Load(ton)
SWL (ton)
Weight (kg)
Dimensions (mm)
A
B
C
D
E
F
G
250
150
1380
1178
1327
1156
1460
120
86
102
400
250
2630
1994
1676
1283
1580
200
144
127
Chain grapnels are used for recovering an anchor and chains that have been detached from the buoy and have fallen to the seabed.
The Head Eye of the grapnel is attached to the trawl cable and the Tail Eye may be attached to the trailing cable for the purpose of withdrawing the Grapnel in the event that the flukes engage with an "immovable" object on the sea bed.
Grapnel is designed with catch slots at the root of the flukes which will retain anchor chain up to 4 inches.
Features of Chain Grapnel Hook
1. SWL: 150t, 250t etc.
2. Material: Casting Steel
3. Durable, Long Life Time;
4. Surface Treatment: Black Bitumen Paint, Anti-rusting Paint or Customized.
5. Provide ABS, CCS or Other Certificates of Classification Societies.
6. Used for Retrieving Anchor Chains Detached from the Buoy or Ship Chain Locker.
7. Standard Production, Specials can be Made to Suit Customer's Requirements.