SWL200T/250T/350T Chain stopper suitable both for OCIMF mooring chafing chain Grade 3 ø76mm and IMO towing chafing chain (ø54mm ~ ø76 mm).
With base and plinth (standard height of seating = 350 mm).
Normally works together with anchor windlass, marine winch.
Towing chafing chain in high tensile steel grade 3, one end with open end link and other end fitted with the standard open pear-shaped link. With class type approval certificate.
Emergency Towing System (ETS) Arrangement & Single Point Mooring (SPM) System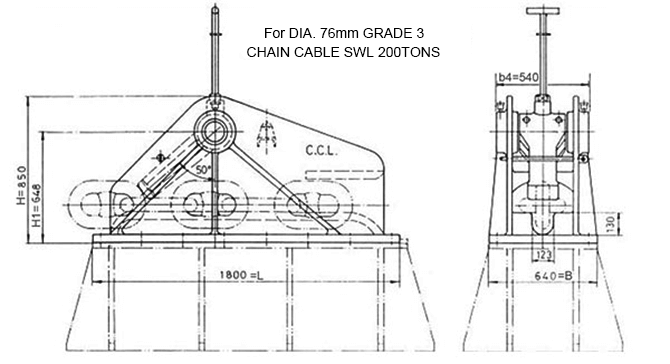 Nominal Chain

SWL

Dimensions (mm)

Weight

Dia (mm)

L

B

H

H1

b4

KG

54-56

100T

1,336

474

631

481

400

488

76-78

200T

1,800

640

850

648

540

1,421
Chain Stopper-OCIMF