Panama Chock ISO13728 Introduction
The Panama chocks are normally adopted for ships passing through the Panama Canal, which are normally assisted by locomotives using steel towing wire.

They meet normal mooring requirements and Panama Canal requirements.
Panama Chocks are used specifically for the guidance of rope mooring lines on board a large ship or vessel.
Intended for heavy duty use, the chocks are manufactured from high quality cast steel in various grades dependent upon the particular application and loading required. Panama Chocks can be either mounted directly onto or into the hull, or alternatively can come supplied with a base plate to be bolted to a plinth.
Qingdao Lige Machinery offer a wide range of chocks which are deck and bulwark mounted.

Our extensive chock range can be supplied with a paint primer or galvanised finish.
Made from quality cast steel, our deck chocks can be directly mounted or can be supplied with a base plate to be bolted onto a plinth.
Deck chocks are mounted directly on to the vessel's deck area, acting as a specific guide for mooring lines.
The units design means that abrasion on the rope is kept to a minimum which reduces the risk of breakage under strain and prolongs the life of the rope itself. Deck chocks are used as part of a common mooring arrangement and are supplied with ready to install with a primed paint or galvanised finish.
Please refer to the technical datasheets below which you are free to donwload in PDF file format.
Standard Features:
· Cast from high quality steel
· Deck mounted, variety of sizes available
· Paint primed or galvanised
· Compliant with ISO 13728 specifications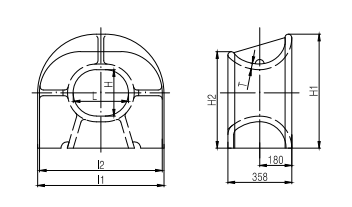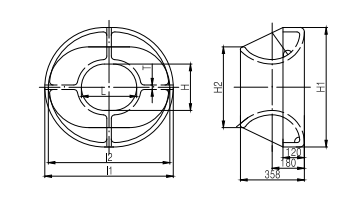 ISO13728 Panama Deck chock Material :ZG230-450 GB11352-89
Nominal size (mm)
Dimensions
SWL
Mass (kg)
L
l1
l2
l3
l4
H
H1
H2
T
(KN)
(t)
310
310
708
688
105
310
260
639
541
32
471
48
257
360
360
760
740
130
360
260
640
543
34
687
70
286