Chain Stopper JISF2015-87 For Anchor Chain and Anchor Winch
Chain stopper is important device which is used to clamp the anchor chain, withstand the pull of anchor chain and protect the windlass when it is not in pull status.
Qingdao Lige Machinery has developed combined safety devices and chain stoppers, for all chain sizes, which can be installed on the deck of any type of vessels, both newbuilding as well as retrofits on existing vessels.
The chain stopper holds the anchor while the ship is underway and guides the chain during anchoring man oeuvres. During anchoring, the chain stopper withstands the forces from the anchor, so the anchor winch is protected.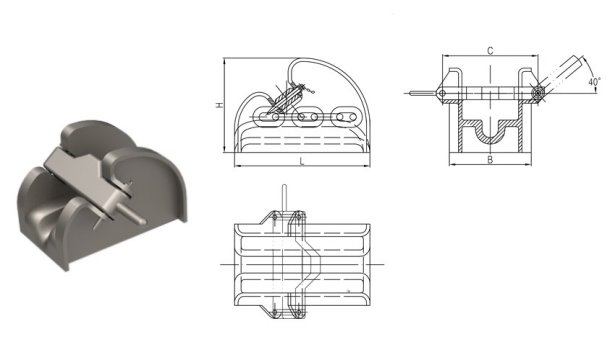 Material :SC42 in JISG5101 / ZG230-450 GB/T11352-2009
Product Code
CSB001
CSB002
CSB003
CSB004
CSB005
CSB006
CSB007
CSB008
CSB009
CSB010
Chain Dia. (mm)
38-40
42-44
46-48
50-52
54-56
58-60
62-64
66-68
70-73
76-78
L
540
590
640
695
745
795
850
900
960
1020
H
378
412
450
491
528
564
600
635
675
715
B
336
366
397
428
457
488
517
547
582
617
C
390
424
460
494
530
564
600
636
678
720
Weight(kg)
111
139
176
216
261
319
396
482
608
739