Panama Chock ISO13729 (Deck Mounted)
Panama chocks are normally adopted for ships passing through the Panama Canal,
They meet normal mooring requirements and Panama Canal requirements.
Panama Chocks are used specifically for the guidance of rope mooring lines on board a large ship or vessel.
Intended for heavy duty use, the chocks are manufactured from high quality cast steel in various grades dependent upon the particular application and loading required.
Panama Chocks can be either mounted directly onto or into the hull, or alternatively can come supplied with a base plate to be bolted to a plinth.
Qingdao Lige Machinery offers a wide range of chocks which are deck and bulwark mounted.
Our extensive chock range can be supplied with a paint primer or galvanized finish.
The units design means that abrasion on the rope is kept to a minimum which reduces the risk of breakage under strain and prolongs the life of the rope itself. Deck chocks are used as part of a common mooring arrangement and are supplied with ready to install with a primed paint or galvanized finish.
Please refer to the technical datasheets below which you are free to download in PDF file format.
Standard Features:
· Cast from high quality steel
· Deck mounted, variety of sizes available
· Paint primed or galvanised
· Compliant with ISO 13729 specifications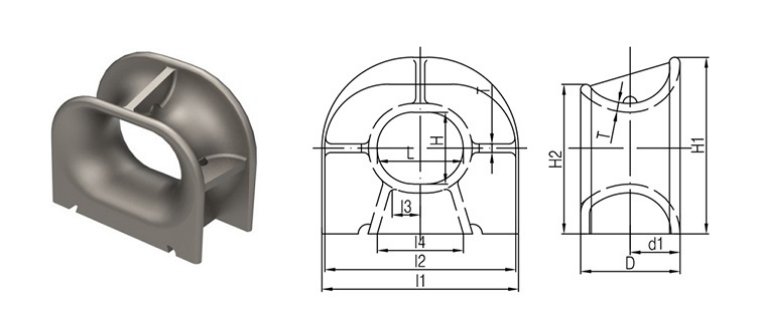 Material: ZG230-450 GB/T11352-2009

Product Code

Nominal size L×H×D

Dimensions (mm)

SWL (ton)

Wire rope dia(mm)

Weight (kg)

l1

l2

l3

l4

H1

H2

H3

d1

T

PCA001

250×200×214

488

453

76

265

427

368

108

108

22

23

18

73

PCA002

300×250×286

614

565

89

330

551

481

144

144

26

43

24

142

PCA003

350×250×333

716

660

114

403

601

525

168

168

30

56

28

222

PCA004

400×250×381

820

754

139

475

652

553

192

192

36

70

32

310

PCA005

450×250×381

870

804

164

524

652

553

192

192

36

72

32

322

PCA006

500×250×381

920

854

189

574

652

553

192

192

36

78

32

337

PCA007

400×250×428

870

796

139

500

701

609

216

216

38

90

36

434

PCA008

450×250×428

920

846

164

550

701

609

216

216

38

93

36

452

PCA009

500×250×428

970

896

189

600

701

609

216

216

38

95

36

472

PCA010

500×400×428

970

896

176

600

851

759

216

216

38

91

36

528

PCA011

500×250×525A

1068

1000

190

652

798

675

264

264

40

117

44

657

PCA012

500×400×525A

1068

1000

193

652

948

825

264

264

40

118

44

724

PCA013

500×250×525B

1074

1000

176

652

801

680

264

264

46

144

44

753

PCA014

500×400×525B

1074

1000

179

652

951

830

264

264

46

141

44

825
Panama Chock ISO13729 (Deck Mounted)