Double Bollard DIN82607
The DIN 82607 double bitt mooring bollard is welded by steel plate according to the requirement of DIN 8570.
The plates and post tubes are weldable steel plates, having a yield point of not less than 235N/mm2.
The eye plate for tying the stopping-off rope or chain shall be provided for the DIN82607 bollard.
The double bitt bollard is provided with two ridges to prevent the rope from moving.
A stopper plug has been fitted for the application of a rope stopper.
The tubes penetrate the baseplate and reinforcement plates have been fitted in the base of the bollard.
Therefore, the foundation construction of the bollards does not have to penetrate the deck.
It is a type of ship's mooring and towing fitting installed on the board to belay the mooring and towing rope.
The marine bollards are delivered as epoxy painted and with the necessary reinforcements installed. Also, they are standard delivered with a hook bolt and chain stopper.
The bollards can be produced in different sizes and equipped with a pulley according to the customer's request.
Qingdao Lige Machinery provides a wide range of mooring bollards, superior quality & the best prices guaranteed.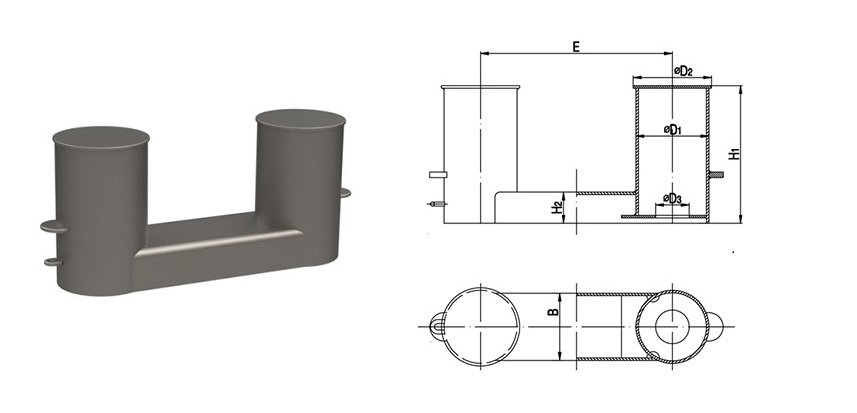 Material: Q235B,Q345B GB/T591-2008


















Product Code
SWL
Dimensions (mm)
Weight
(kg)
(KN)
B
E
D1
D2
D3
H1
H2
DBE001
10
130
430
139.7
160


370
105
21
DBE002
20
180
570
193.7
215


470
115
53
DBE003
30
250
700
273
300


570
135
100
DBE004
50
300
880
323.9
355
150
670
150
155
DBE005
80
330
1050
355.6
390
170
780
175
265
DBE006
120
420
1200
457
490
210
860
195
465
DBE007
200
470
1350
508
545
235
970
230
650
DBE008
320
530
1400
559
600
235
1000
270
765
DBE009
450
620
1500
660
700
310
1200
320
1290
DBE010
570
660
1600
711
750
400
1250
350
1610
Double Bollard DIN82607