Cross Bitt Bollard JIS F2804
JIS F2804 Cruciform Bollard, also known as the Cross Bitt Bollard, is a commonly used mooring bollard on ships.
Its advantages are small size and easy to use, but its disadvantage is its small SWL, which is only used for small ships with steel wire ropes. It is usually used for ordinary moorings of tugboats, cargo handling, ship handling, etc.
The cruciform bollards can be made of welded steel or seamless pipe. Welding areas are smooth from crack, scar, holes, shrinkage, alluvial soil such impact strength and appearance of the defects. When made of seamless pipe, the outer diameter and wall thickness shall not be less than the requirements in standards. Its size ranges from 150mm to 350mm, and its weight ranges from 33KG to 186KG.
According to the JIS F2804 standard, the cruciform bollard should be free from harmful defects, welded firmly, and the appearance strain should be as small as possible. JIS- F2804 is one of the standard configurations for ship construction issued by the Japan Standards Association. Now F2804-1976 has replaced the old F2804-1973 as the latest standard.
Qingdao Lige Machinery is a professional supplier of marine equipment. Our mooring bollards are certified by IACS classification society such as CCS, ABS, BV, DNV, LR, NK, etc. We can also meet your special requirements for all types of mooring equipment. Please feel free to contact us if any inquiries.

Features of JIS F2804 Cruciform Bollard:
- Long working life, up to 15-20 years.
- Nice shaped, good quality and with very low maintenance.
- Strong and durable designs.
- Can be customized according to customers' requirements.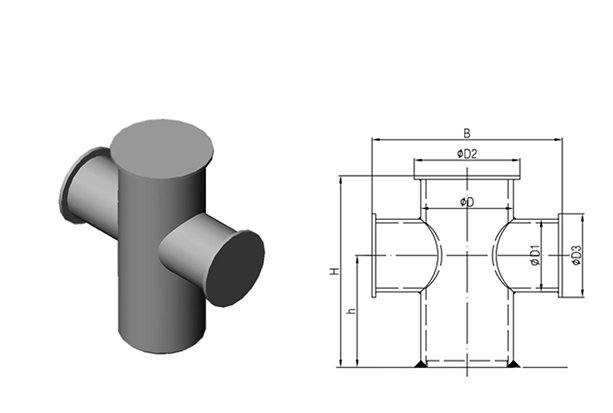 Material: Material :SC400 in JISG3101 /Q235B GB/T591-2008
Product Code
Nominal
Size
Dimensions (mm)
Chill
strip
Calculated
mass
(kg)
Dia.of applicable
rope (reference)
H
h
B
D
D1
D2
D3
Wire
rope
Hemp
rope
CBA001
150
480
280
460
165.2
114.3
206
158
25 X 4.5
33.0
16
45
CBA002
170
120
210
164
32.0
CBA003
200
560
320
520
216.3
165.2
256
206
60.4
22.4
-
CBA004
220
170
260
210
58.6
CBA005
250
640
360
610
267.4
216.3
308
256
102.9
28
-
CBA006
270
220
310
260
94.1
CBA007
300
680
380
660
318.5
267.4
360
308
154.0
33.5
-
CBA008
320
270
310
138.0
CBA009
350
720
420
720
355.6
267.4
400
312
186.3
37.6
-
CBA010
360
270
404
314
171.7