Crosby Shackle G210
The straight legs of screw pin G210 chain shackles makes them the best choice for applications involving two-directional pulls.
Multiple load direction pulls can stress the sides and increase the risk of failure. In these instances, a bow or anchor shackle is the best type of shackle.
Forged- quenched and tempered- with alloy pins.
A red pin makes for easy identification and is the mark of Crosby® hardware quality.
It lets the user connect and disconnect quickly, so it's great for temporary or attachments that change often.
Qingdao Lige Machinery Co., Ltd supplies kinds of standand shackles, eye nuts & bolts, hooks, clips, turnbuckles and hardwares. Just feel free to contact us if any interest in our products.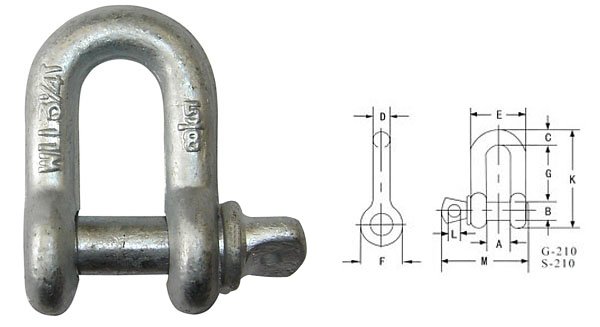 Weight

Size

WLL

Dimensions(mm)

(kg)

(in.)

(T)

G210






A

B

D

F

G

H

L

M

P

0.05

1/4

1/2

11.9

7.85

6.35

15.5

32.5

46.7

4.85

35.1

6.35

0.08

5/16

3/4

13.5

9.65

7.85

19.1

37.3

53

5.6

42.2

7.85

0.13

3/8

1

16.8

11.2

9.65

23.1

45.2

63

6.35

51.5

9.65

0.2

7/16

1-1/2

19.1

12.7

11.2

26.9

51.5

74

7.85

60.5

11.2

0.27

1/2

2

20.6

16

12.7

30.2

58.5

83.5

9.65

68.5

12.7

0.57

5/8

3-1/4

26.9

19.1

16

38.1

74.5

106

11.2

85

17.5

1.2

3/4

4-3/4

31.8

22.4

19.1

46

89

126

12.7

101

20.6

1.43

7/8

6-1/2

36.6

25.4

22.4

53

102

148

12.7

114

24.6

2.1 5

1

8-1/2

42.9

28.7

25.4

60.5

119

167

14.2

129

26.9

3.06

1-1/8

9-1/2

46

31.8

29.5

68.5

131

190

16

142

31.8

4.11

1-1/4

12

51.5

35.1

32.8

76

146

210

17.5

156

35.1

5.28

1-3/8

13-1/2

57.00

38.1

36.1

84.00

162

233

19.1

174

38.1

7.23

1-1/2

17

60.5

41.4

39.1

92

175

254

20.6

187

41.1

12.1

1-3/4

25

73

51

46.7

106

225

313

25. 40

231

57

19.2

2

35

82.5

57

53.00

122

253

348

31

263

61