Double Bollard ISO13795-B
The welded steel bollard is a double bitt bollard according to the standard of ISO13795, suitable for installation on sea-going vessels to meet normal mooring and towing requirements.
The posts of the bollards shall be constructed from steel tubes or formed from the plate.
A low-friction surface coating is not recommended so as to increase the holding force of the mooring rope under figure-of-eight belay according to ISO standard. Depending on the construction, the mooring bollards shall be classified as two types, which are Type A – with compact base plate and Type B – with a wide base plate.
For mooring purpose, the maximum load in kN on the rope that should normally be applied in-service conditions. For towing purposes, the maximum load on the rope applied to a bollard subjected to a tug boat pull by using an eye splice at the end of the towing rope to connect to the bollard. And the SWL for mooring and towing are different.
The posts of the bollards shall be constructed from steel tubes or formed from the plates.
Both the steel tubes and steel plates should have a yield point of not less than 235N/mm2.
The fins of the welded steel bollard shall be installed to keep the ropes as low as possible so as to reduce the loads to the bollard posts from the mooring or towing ropes.
And the eye plates for tying the stopping-off rope or chain shall be provided.
Qingdao Lige Machinery is a professional manufacturer and supplier with superior quality ISO13795 marine bollard, the most affordable price guaranteed.
Features Of ISO13795 Marine Bollard
With smooth edges and surface.
Expressed SWL or TOW in tonnes (letter "t") marking clearly on a surface.
International load and stress criteria.
The fins and eye plates are provided.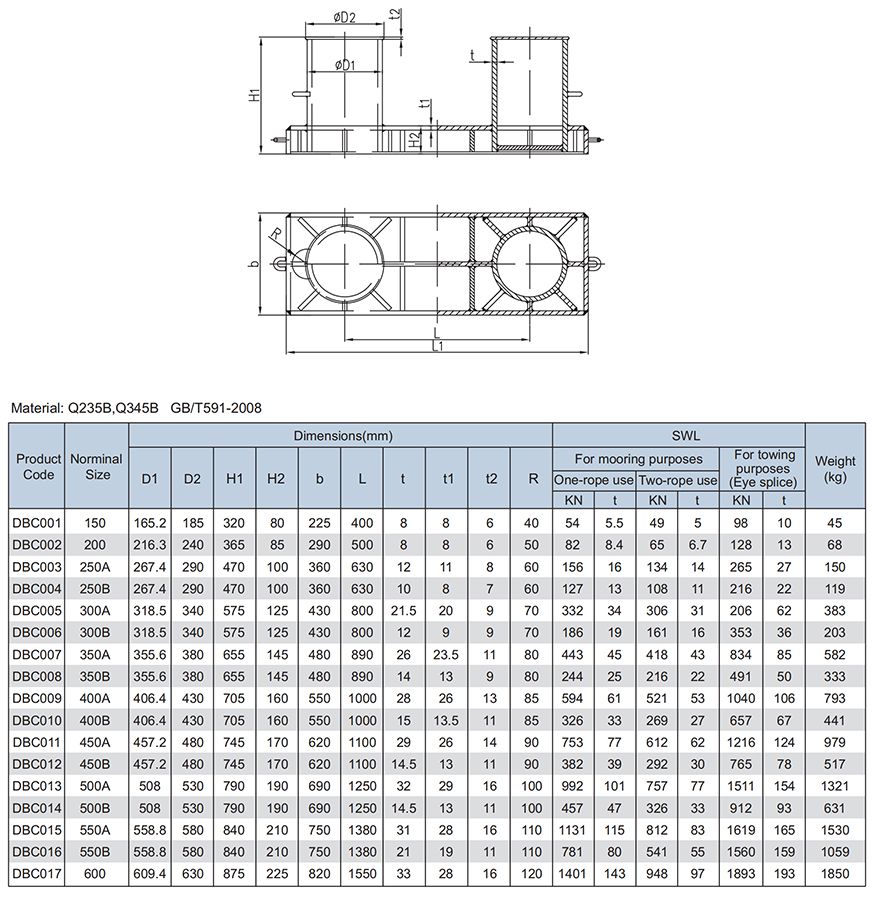 Double Bollard ISO13795-B