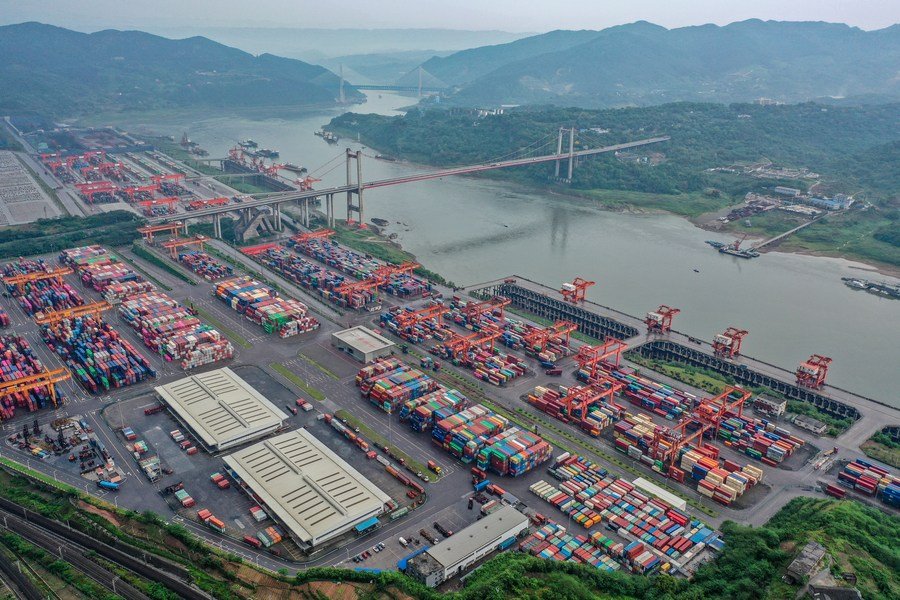 SHIJIAZHUANG -- The gross domestic product of China's marine economy, which covers industries ranging from navigation and fishery to shipbuilding, exceeded 9 trillion yuan ($1.25 trillion) in 2022, according to the ministry of transport on Tuesday.
The ministry released the data at a forum marking the 19th Maritime Day of China in Cangzhou city, North China's Hebei province, which will host a week-long themed event featuring the likes of academic conferences, exhibitions and science popularization activities.
According to the ministry's report, about 95 percent of China's foreign trade goods are transported via marine shipping.
Last year, the country's port cargo throughput reached 15.7 billion tons, and the total volume of container shipping neared 300 million TEUs, up by 0.9 percent and 4.7 percent year-on-year, respectively. The freight volumes soared by 33 percent and 56 percent, respectively, compared with the levels ten years ago.
By the end of 2022, the capacity of China's shipping fleet had reached 370 million deadweight tonnes, double that of ten years ago, and the scale leapt to second place in the world.
The national Maritime Day was first celebrated in 2005 to commemorate the 600th anniversary of Zheng He's marine voyages. Ships of the great Ming Dynasty (1368-1644) explorer set out on journeys to Southeast Asia and beyond, forming part of China's Maritime Silk Road history.