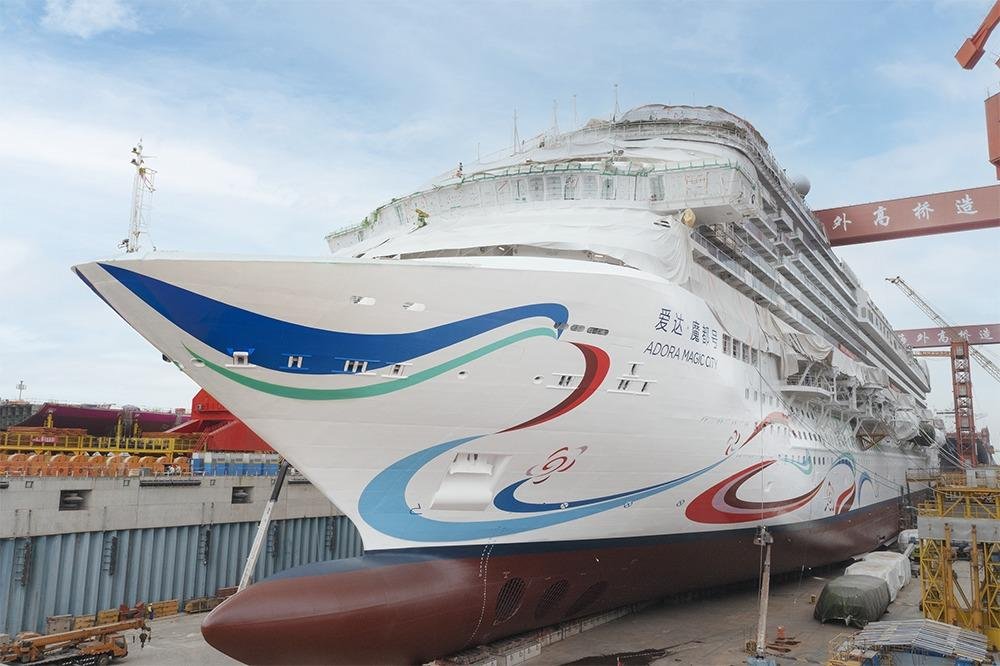 China's first domestically-built large cruise ship, "Adora Magic City", has started its "floating-up process" early Thursday morning and is expected to be undocked in Shanghai on June 6, CCTV News reported.
The cruise ship was jointly designed and built by the Shanghai Municipal Culture and Tourism Bureau and CSSC Cruise Technology Development Co Ltd. Measuring 323.6 meters in length, the 135,500-metric-ton cruise ship can accommodate up to 5,246 passengers.
The 16-deck ship also has theaters, restaurants, shopping areas, art galleries, water parks and other recreational facilities.
Construction of the ship started in 2019 at Shanghai Waigaoqiao Shipyard. A series of technological innovations have been made in the past three years. The ship's building is seen as an important step forward in national technological self-reliance, as the large cruise ship is the only type of advanced, high-value-added ship that China had not previously constructed.
Large vessels like cruise ships usually have displacement hulls that push water out of the ship's way, which allows it to remain floating. Before officially leaving the dock, a cruise ship should complete launch and float tests in the dock.
According to Wei Shengsheng, deputy manager of the project department of Shanghai Waigaoqiao Shipbuilding, the entire floating process of the ship is expected to take about six to eight hours. Due to the large size of the ship, it is difficult to observe the subtle changes in position with the naked eye. Therefore, the ship has been equipped with many sensors, so that the position changes of the ship can be monitored in real-time during the whole floating process.
"During the summer, coastal areas where shipyards are located often experience typhoons, which are an important factor affecting the floating. The upper structure of a cruise ship is particularly high, so the windward area there is particularly large. If the wind level surpasses 6 or 7, it will have a certain impact on the floating operation," said Wei Shengsheng.
The large cruise ship is expected to be delivered by the end of 2023. The vessel will be used on international routes to Japan and Southeast Asia, with Shanghai as the home port. Medium and long routes may also be launched in the future to take travelers to destinations along the Maritime Silk Road.